Traditional folk artist Judy Cook will present "One Man's Civil War"  at the Whitewater Art Alliance's  Cultural Arts Center (402 W. Main St.) on Thurs., Sept. 8th, at 7pm. She will be reading from letters written by her ancestors to introduce songs, accompanied by projected images.
Admission is free, but tickets are required and available from the Cultural Arts Center. For additional information, call 262-473-5538.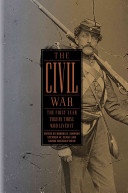 Are you interested in learning more about the Civil War?   Search HALCat, Harold Andersen Library's online catalog, to find book titles including The Civil War: The first year told by those who lived it (3rd-floor Main Collection,  E464 .S56 2011), The singing sixties: The spirit of Civil War days drawn from the music of the times (3rd-floor Main Collection, ML3551 .H35), and Lincoln and the music of the Civil War (3rd-floor Main Collection, ML3551 .B38).  The catalog will also find music such as The Civil War songbook : Complete original sheet music for 37 songs (3rd-floor Main Collection OVERSIZE, M1637 .C6) and music recordings including The Civil War music collector's edition (2nd-floor Browsing OVERSIZE CDs, genre and call number: CLA Civ).
For assistance with finding materials, please ask a librarian.