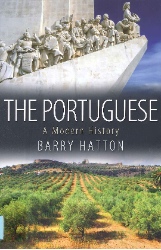 The Portuguese:
A Modern History
by Barry Hatton
DP538 .H37 2011
New Book Island, 2nd floor
I just found out yesterday that a good friend from my study abroad program is getting married over Labor Day weekend in Santa Fe, NM. I'm pretty stoked because Barb ever so kindly granted me the time off to go [road trip!]. However, it also has made me nostalgic for Europe. When browsing the New Book Island for inspiration, I came across this book, which details one of the few places that I didn't visit while I was in Barcelona [and I was so close!].
Hatton, foreign correspondent in Lisbon for more than twenty years, shares his knowledge of the Portuguese, from both a historical perspective to the current day. Because of its odd positioning, the country often is forgotten. However, the author demonstrates that Portugal packs a lot of colorful culture inside its small, diverse borders. He covers everything from their rise during the age of exploration and subsequent decline, their survival of one of Europe's most severe natural disasters, and their endurance of the continent's longest dictatorship in the twentieth century. With a mixture of the background and personal stories, you're sure to be entertained learning about these sometimes misunderstood people.