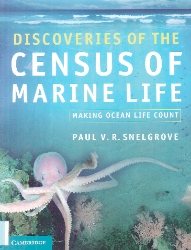 Discoveries of the Census of Marine Life:
Making Ocean Life Count
by Paul Snelgrove
QH91.8 .B6 S64 2010
New Book Island, 2nd floor
The United States Census Bureau finished up the decennial census last year. They pulled out all the stops, with field workers and clever marketing tactics (even a Super Bowl advertisement). But I'm not going to lie – their job seems a little bit easier to do than the undertaking in this week's featured title, given that they were dealing with people and not slippery aquatic creatures.
Snelgrove, director of the NSERC Canadian Healthy Oceans Network, has detailed the process of trying to tackle the ocean and everything that lives in it. As part of the massive project that involved researchers from more than eighty nations, he explains the reasoning for documenting the impressive variety of marine life, as well as the methods used to take on just a project. With advances in technology, the team was able to cover a lot of ground… er, water. However, the author also discusses the great unknown and the unknowable. This book is a fascinating look at what takes up approximately 70% of the Earth's surface (and the photos are pretty mind-blowing as well).