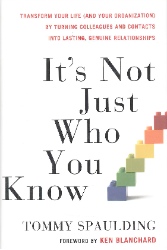 It's Not Just Who You Know:
Transform Your Life (and Your Organization) By Turning Colleagues
and Contacts Into Lasting, Genuine Relationships
by Tommy Spaulding
HF5386 .S7512 2010
New Book Island, 2nd floor
Is there anyone that can say that they've never heard that it's not what you know, but who you know? In a tight job market, the difference between the chosen candidate and the rest may not just consist of what is on the resume. Therefore, the saying is now more relevant than ever. This week's featured title looks at what you have to do to make the most of the 'who you know' part.
Spaulding, a leadership-development consultant, utilizes Dale Carnegie's quintessential classic, How To Win Friends and Influence People, as the basis for his inspirational tale. He uses his own life experiences to add to Carnegie's foundation for building relationships. Broken into five sections like 'The Power of NetGiving and RelationShift, the author dispenses advice in short, manageable chapters. Spaulding's insights help you think more proactively about your people skills and how best to manage the various types of friendships in your life.
FYI – the Library conveniently has three copies of How To Win Friends and Influence People, just in case you'd like to check that out too.