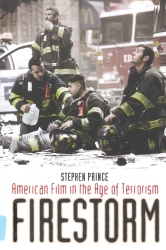 Firestorm:
American Film in the Age of Terrorism
by Stephen Prince
PN1993.5 .U6 P745 2009
New Book Island, 2nd floor
There is no doubt that the September 11th terrorist attacks have changed our country and world. No part of society is left untouched by its impact, and the film industry is no exception. This week's featured title takes a look at how the America cinema has evolved post-2001.
Prince, a cinema professor at Virginia Tech, chronicles the shift in American movies and their portrayal of acts of terror since the infamous attacks in the United States. He examines films both before and after the unfortunate series of events, from back in the 1930s until the present. The author includes not only major motion pictures, but also documentaries that offer insight into the current mentality of filmmakers. The book features an extensive filmography and bibliography for further research and viewing.