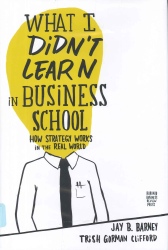 What I Didn't Learn in Business School:
How Strategy Works in the Real World
by Jay Barney & Trish Gorman Clifford
HD30.28 .B36835 2010
New Book Island, 2nd floor
The purpose of going to school and getting an education is to prepare you for your chosen career. You learn all of the theories and potential applications of them in class. You'll also hopefully get a taste of what it's like by doing an internship. So then what happens when you're not sure how to tackle the project from your boss on the first day on the job? As this week's featured title demonstrates, sometimes all the studying in the world can't prepare you for what's in store in the workplace.
Barney and Gorman Clifford, a business professor and consultant/instructor, respectively, utilize the 'business novel' approach in order to illustrate how business strategy plays out in the real world. The authors created a fictional, yet realistic, new MBA graduate as the main character to navigate the inner-workings of a global firm. The protagonist finds out that while B-school certainly tries to cover all the bases, there were situations that couldn't be foreseen. The authors walk through each of the situations that arise, such as the first assignment, meetings and colleagues, as well as ask questions at the end of each chapter to cause the reader to critically evaluate the process and outcomes. If you're thinking about business school or curious to get a glimpse of life in a large global corporation, then this book's for you.