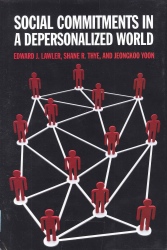 Social Commitments in a Depersonalized World
by Edward Lawler, Shane Thye & Jeongkoo Yoon
HM1106 .L39 2009
New Book Island, 2nd floor
The electronic age has revolutionized the way in which we communicate with everyone around us, from friends and family to strangers on the other side of the world. Furthermore, the explosion of social media tools enables us to connect in ways as never before. While this has obviously changed how we interact with each other, how does this affect groups and organizations? This week's featured title looks at the current state of social groups and their staying power.
Lawler, Thye and Yoo, professors at American and Korean universities, have researched social commitments, defined as person-to-group ties, as we know them today. The authors investigate the types of social interactions, as well as factors that influence the strength of the affiliations between individuals and organizations. They contend that strong social commitments can be formed, even in the 'depersonalized' society in which we live. Their interdisciplinary work reaches far beyond just the potential business applications, but also how we work together across diverse backgrounds.