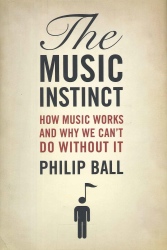 The Music Instinct:
How Music Works and Why We Can't Do Without It
by Philip Ball
ML3800 .B2085 2010
New Book Island, 2nd floor
I often get asked why I always have my door closed by people that stop by my office [it's definitely not because I like the sauna that it becomes by the afternoon]. The reason that I always close my door is because I absolutely MUST have music playing to keep the productivity flowing. Because of this attachment, I was immediately drawn to this week's featured title.
Ball, a prolific author, has released his latest work on the importance of music. With chapter names that begin with musical terminology like Staccato and Legato, he takes us on a journey through the various aspects of the musical form, from its origins to the brain's interpretation of sounds to its ability to replace speech as communication. With plenty of references to support his work, this book serves as a great place to begin looking at music in a different light [or would that be hearing it with different ears?].