The Wisconsin Legislative Reference Bureau issues "Tap the Power" bibliographies that list sources of information on hot topics. Recent examples are "Pharmaceuticals in Drinking Water" (Dec. 2010), "Going Green" (Sept. 2010), "Performance Pay for Teachers" (Apr. 2010), and "Texting While Driving" (Feb. 2010).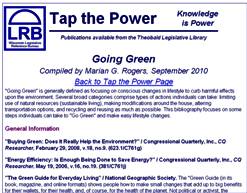 Resources listed (many with annotations) include books, articles, and online sources. For example, the "Going Green" list includes links to "The Green Guide for Everyday Living" provided online by the National Geographic Society, "Frequently Asked Questions About Plastic Shopping Bags" from Wisconsin's Department of Natural Resources, "Bottled Water: Learning the Facts and Taking Action" from the Sierra Club, and "Wisconsin's RIDESHARE Program … A Carpool and Bike Buddy Matching Program" from Wisconsin's Dept. of Transportation.
Please ask a librarian for assistance with finding materials.