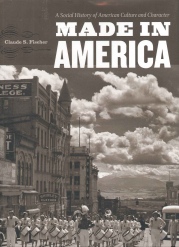 Made in America:
A Social History of American Culture & Character
by Claude Fischer
E169.1 .F538 2010
New Book Island, 2nd floor
Fischer, a sociology professor at UC-Berkeley, takes a look back throughout the history of our country to figure how we have evolved as a society. He investigates oft-quoted presumptions that claim that Americans are more mobile and materialistic, and demonstrates that there may more than just meets the eye. The author finds that through several hundred years have passed, the character of the American people has remained relatively intact. This book is packed with information and a great place to begin as looking at the history our nation's culture [FYI – there are one hundred pages of works cited].