Celebrate the 13th annual Darwin Day on Thurs., Feb. 10th. First take a bite of the "world's largest edible tree of life" in the Hyland Hall atrium at 5:30pm, and then feed your minds listening to Jerry Coyne, professor of Ecology and Evolution at the University of Chicago and author of Why Evolution Is True, talk about "Why Evolution is True, but Widely Rejected" at 6:30pm in Hyland Hall's Timmerman Auditorium.
Want to read some of Jerry Coyne's publications? UWW students and staff may request his book from other UW libraries by using the free Universal Borrowing service. An author search of article databases such as ScienceDirect will find some of his articles, including "(Re)Reading The Origin" (Current Biology, vol.19:no.3, 10 February 2009, pp.R96-R104) and "Sympatric speciation" (Current Biology, vol.17:no.18, 18 September 2007, pp.R787-R788).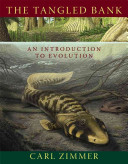 You also can search the article databases or HALCAT (Harold Andersen Library's catalog) for additional materials on evolution, such as the book The tangled bank: An introduction to evolution (3rd-floor Main Collection, QH367 .Z56 2010)
Please ask a librarian for assistance with finding materials.