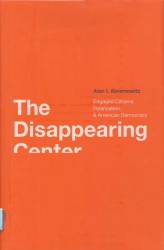 The Disappearing Center:
Engaged Citizens, Polarization & American Democracy
by Alan Abramowitz
JK2261 .A28 2010
New Book Island, 2nd floor
This last week seemed to have people at odds with each other. I'm not exactly sure whether it was the State of the Union address on Tuesday night or the fact that my poor Bears lost to the Packers. While the Packers-Bears rivalry does create some tension, the President's speech and subsequent rebuttals by the Republicans and Tea Party members had people riled up. Conveniently enough, there's a book on this very topic.
Abramowitz, political science professor at Emory University, has noticed a change in American politics, with the two sides growing farther and farther apart. However, he's not referring to the left and the right. He presents an argument that pits the engaged individuals of society against those apathetic to the democratic process. The author addresses this polarization and how its seemingly detrimental effect on our society may actually aid in motivating people to participate in elections.