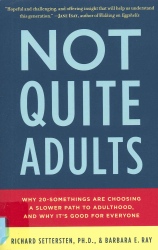 Not Quite Adults:
Why 20-Somethings Are Choosing a Slower
Path to Adulthood, and Why It's Good for Everyone
by Richard Settersten & Barbara Ray
HQ799.5 .S48 2010
New Book Island, 2nd floor
When I was flipping through book reviews and came across this title, I immediately thought of when I was studying abroad in Barcelona. My fellow American students and I were surprised to meet people our age and a few years older that still lived at home with their parents – it was apparently pretty common. Of course, nowadays, you hear all the time about college students graduating and moving back home. Is it a positive or negative trend for our society?
Settersten and Ray, professor at Oregon State University and non-profit consultant, respectively, set out to explain why the delay into adulthood isn't exactly a bad thing. Their research, done as part of the MacArthur Research Network on Transitions to Adulthood, identifies some interesting findings. For instance, the authors found that laziness does not motivate young people to return to the nest, but rather to improve their position by saving or furthering their education. Also of note, helicopter parents do serve an integral purpose in their offspring's success by providing mentoring and financial support. Jam-packed with myth-busting results, this book is sure to change how you perceive the up-and-coming generation.