Bob & Mary Krauski's art glass exhibit at the UC's Fiskum Art Gallery from Oct. 17-Nov. 5 will showcase their stained glass work. A reception will be held on Mon., Oct. 20th, 4-5 pm, followed by a workshop (open to 10 students, $10 fee).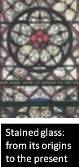 Believe it or not, your University Library has resources if you want to know more about stained glass. A simple keyword search of the Library Catalog for "stained glass" would find titles such as Making stained glass: a handbook for the amateur and the professional (3rd-floor Main Collection OVERSIZE TT298 .M47) and Stained glass: from its origins to the present (3rd-floor Main Collection NK5306 .R34 2003).



You can learn more about the Krausksis and their studio on their Krauski Art Glass web site.