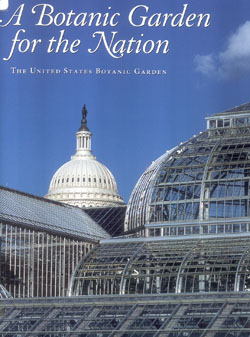 Summer is here and the flowers are in full bloom. From your back yard to well-kept neighborhood parks, nature brings life to the world once again with colorful flowers. During this warm and sunny time of the year, flowers remind us to take some time from our busy lives and enjoy nature in all of its glory.
The United States Botanic Garden, located in Washington, D.C., provides a unique opportunity for people to visit and view a wide variety of beautiful and rare flowers and plants. This book provides readers with a thorough history of the national gardens formation and purpose, as well as vivid photographs and detailed descriptions of each plant. Check this book out and you'll be in awe of the beautiful and colorful plants nature offers us! And perhaps you'll be inspired to create your own botanical garden in your own back yard (or at least visit the U.S. Botanic Garden the next time you're on vacation)!

The University Library is a federal depository with many federal, state, local, and international documents on a variety of current and relevant issues available to you in print, microfiche, CD-ROM, and electronically. Come check out your government at the University Library!