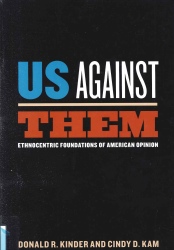 Us Against Them:
Ethnocentric Foundations of American Opinion
by Donald Kinder & Cindy Kam
GN560 .U6 K56 2010
New Book Island, 2nd floor
When I saw the title of this week's featured book, I thought that it would perfectly highlight the diversity events that are taking place this week. [If you have not, check out This is OUR House for more information on what's going on.]
Kinder and Kam, professors at University of Michigan and Vanderbilt University, respectively, delve into ethnocentrism, defined in the introduction as "the technical name for this view of things in which one's own group is the center of everything."1 They assert that humans can't help but divide individuals into groups with labels, which affects one's worldview and their attitudes on all kinds of issues. The authors investigate the theories behind ethnocentrism and then address research studies into specific dichotomous [or polychotomous in such cases] cases, such as American v non-American, men v women, straight v gay, among others. If you're interested in the psychology behind why people pit themselves against the rest of the world, this is the book for you.
Also noteworthy, this text serves as a great starting point on the subject – there's thirty pages of references for you to check for further research.
1 William Graham Sumner, prominent researcher and professor at Yale, invented the term in the early 1900s.