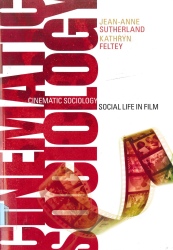 Cinematic Sociology:
Social Life in Film
edited by Jean-Anne Sutherland &
Kathryn Feltey
PN1995.9 .S6 C543 2010
New Book Island, 2nd floor
When I was living in Spain and would tell my host family and friends from other countries about what it was like to live in the states, I would get a lot of 'That's not what I saw in the movies.' Films have been utilized as a learning medium to more vividly focus on all sorts of issues in which reading about them just doesn't cut it. This week's featured title looks at how cinema can be effectively leveraged in the field of sociology.
Sutherland and Feltey, sociology professors at UNC-Wilmington and University of Akron, respectively, have compiled a text of readings that analyze social issues through the lens of the camera. With topics ranging from race inequalities to gender and sexuality to social change, each short chapter details how movies portray life for individuals in society and what viewers take away from watching them, whether explicit or more subconsciously. In addition, there is an appendix with a list of films useful in the teaching of the issues addressed in the book.