Alan Weisman, journalist and author of The World Without Us, will speak on Mon., Oct. 27, 2008, at 7 pm in the Irvin Young Auditorium.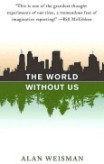 The World Without Us imagines what the Earth would be like if humans vanished. It's an interesting way to examine our impact on the environment. Your University Library has the book in the "McNaughton" Collection (2nd floor, near the Cafe) and it is also available from other UW libraries through the free Universal Borrowing service.
Weisman's 2005 essay for Discover, "Earth Without People" was selected for Best American Science Writing 2000-2007.
This should be a thought-provoking talk.