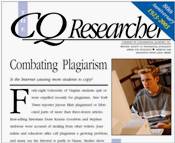 Do you understand plagiarism? Why is it such a big hairy deal anyway? Well, it's only right and fair to be credited for your own work while giving others proper credit for their work. It's also important beyond your student years–see the CQ Researcher "Combating Plagiarism" issue from Sept. 19, 2003, that talks about reporters, musicians, and historians getting into hot water for claiming others' words and ideas. And it's not just words and ideas, but also images and sources of factual information that need to be cited. Basically, to do otherwise is intellectual theft, behavior both dishonest and unethical. Oh, and you can suffer consequences for plagiarism at UWW (see the Student Handbook's section on UW System Policies and specifically UWS Chapter 14.03 "Academic misconduct subject to disciplinary action").
So, do you know what to do, or do you need some help understanding how to avoid plagiarism? What's considered common knowledge? Is everything online fair game? Is anything in an encyclopedia "common knowledge" that doesn't need to be cited? If you change the wording, do you still need to cite the source? If an image is of a really, really old painting, is it ok to just paste it into your presentation? Not so sure? You aren't alone! Students at universities and colleges all over have the same uncertainties. Here are some tutorials and videos developed at other academic institutions that may help:
You can find many other similar sites by searching Google. Ask a librarian for assistance.