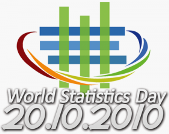 October 20, 2010, is the first World Statistics Day, designated by the United Nations to celebrate official national and international statistics. Just think a moment about all the uses to which we put the data gathered by the U.S. Census Bureau alone. And that isn't the only U.S. Government agency producing data–check out the FedStats.gov website's listing of agencies and descriptions of the statistics they provide.
The American Statistical Association is celebrating by streaming videos from its Distinguished Statistician series (such as "Politics and Federal Statistics" and "Censuses and Surveys: 50 Years") during the week of Oct. 18.
You can join in the celebration as well! Regale your friends and family with some data you learned in class, or ask a librarian to help you get some interesting statistics to share. The Statistical Abstract of the United States ("The National Data Book") is chock full of statistics from many federal agencies and other sources, so that's one excellent place to look. For example, according to the National Endowment for the Arts, in 2008 a higher percentage of the adult population in the U.S. attended classical music concerts than jazz concerts, but an even higher percentage read literature (Hey, I'm a librarian & a reader, so I like that!):
7.8% attended jazz concert
9.3% attended classical music concert
50.2% read literature (poetry, novels, short stories, or plays)
However, the NEA's analysis of the data from its 2002 and 2008 surveys was that American audiences/participants of all arts-related activities other than literature reading have been declining and aging. You may be interested in what the NEA report says about online consumption of the arts, but I'll let you read that for yourself!
More interested in international statistics? Search UNdata ("A world of information"). You also can read more about World Statistics Day on Facebook.

UWW's Andersen Library is a federal depository with many federal, state, local, and international documents on a variety of current and relevant issues available to you in print, microfiche, CD-ROM, and online. Come check out your government at Andersen Library!