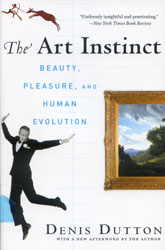 The Art Instinct:
Beauty, Pleasure and Human Evolution
by Denis Dutton
BH39 .D84 2010
New Book Island, 2nd floor
Artistic expression, and the appreciation of it, is a gift that certain individuals possess. Some people can spot 'good' art when they see it or recognize 'great' literature when they read it. While this may seem like a subjective classification, this week's featured title contends that artistic taste exists as an evolutionary trait.
Dutton, professor of the philosophy of art in New Zealand, delves into the world of art through the lens of evolutionary science. He begins by explaining how Darwin's ideas apply to art and the human instinct, and then continues into seemingly 'universal' aesthetic preferences. The author also examines the problems associated with aesthetics, including intention, forgery and dada. Dutton's critique offers an intriguing perspective that goes against current art theory and criticism.