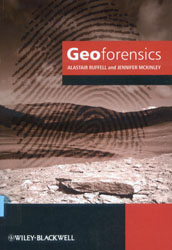 Geoforensics
by Alastair Ruffell & Jennifer McKinley
QE38.5 .R85 2008
New Book Island, 2nd floor
I remember sitting in my dorm room my sophomore year, trying to be the good student, while my roommate would watch hour after hour of Law & Order. Not surprisingly, I would stop studying and get sucked into the criminal investigations. If you lost hours of your life to shows like L&O, CSI or NCIS, then this week's featured title should pique your interest as well.
Ruffell and McKinley, professors from Queen's University in Belfast, have compiled an extensive introduction into the field of geoforensics, which is loosely defined as the "application of geoscience techniques to criminal investigations of what happened, where and when it occurred and how and why it took place." They begin with the large-scale applications, such as remote sensing, and work their way to the small stuff, like soils, used by law enforcement to crack the cases. You'll learn all about how Earth science plays into national and international crime investigation. And if you don't get enough, the authors provide a ton of references for further research.