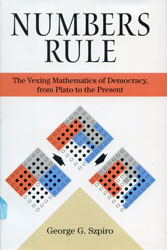 Numbers Rule:
The Vexing Mathematics of Democracy,
from Plato to the Present
by George Szpiro
QA99 .S97 2010
New Book Island, 2nd floor
When I browsed the New Book Island for this week's New Stuff Tuesday candidate, I knew that I had to choose this one. It instantly jump out as me because 1) I went to a special math & science school growing up and 2) I have a feeling that they are a few other people out that would find this interesting [although they may not admit it]. Either way, embrace your inner nerd and read on.
Szpiro, mathematician and journalist for a Swiss newspaper, takes on math's role in some pretty important turning points in history. More specifically, the author details how numbers have factored into the outcomes of democracy and voting, and how everyone from Plato to the Founding Fathers dealt with the power of the number. Each chapter recounts a person of interest, telling the story of the intersection of mathematics and politics throughout history.