Heard of the Scopes "Monkey" trial (aka The State of Tennessee vs. Scopes)? On July 21, 1925 schoolteacher John T. Scopes was found guilty of violating Tennessee's Anti-Evolution Act, which outlawed teaching evolution in public schools. The verdict was set aside later by the Tennessee Supreme Court–on a technicality. Read more about it, e.g., excerpts of the trial transcript from the University of Missouri-Kansas City School of Law's "Famous Trials" web site.
Andersen Library has materials on the trial as well. Search the HALCAT online catalog to find items including these videos: 10 days that unexpectedly changed America (2nd-floor Academic DVDs E178 .T46 2006; disc 2 has the segment called "Scopes: The battle over America's soul"), Monkey trial (2nd-floor VHS KF224.S3 M64 2002), and Inherit the wind (a drama based on the trial in 2nd-floor feature film DVDs, "call no." Inh). You will find books also, such as The great monkey trial (3rd-floor Main Collection KF224 .S3 D4) and Summer for the gods: The Scopes trial and America's continuing debate over science and religion (3rd-floor Main Collection KF224.S3 L37 1998). Articles in magazines, journals, and newspapers are available, including New York Times articles from the time of the trial.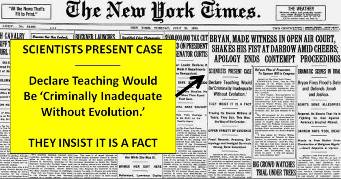 Please ask a librarian for assistance with finding materials.