Every year the best of Wisconsin government agency publishing is honored as Wisconsin Distinguished Documents.
Tied for top honors for 2006 are:
Filing a Petition for Review: A Guide to Seeking Review in the Wisconsin Supreme Court (Wisconsin Supreme Court)
This brief booklet manages to explain the potentially dry topic of how to ask the state Supreme Court to review a Court of Appeals court case clearly, simply, and in a visually appealing way for all of us non-lawyers.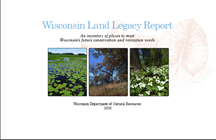 Wisconsin Land Legacy Report: An Inventory of Places to Meet Wisconsin's Future Conservation and Recreation Needs (Wisconsin Dept. of Natural Resources)
This beautifully illustrated book, thanks to the graphic work by the Dept. of Transportation, is really a coffee table book showing and describing the places in the state that will serve our future needs. A print copy is available for checkout in the University Library's Wisconsin Documents collection.
More information about the award, administered by the Wisconsin Library Association's Government Information Round Table, is available online.

The University Library is a federal and Wisconsin depository with many federal, state, local, and international documents on a variety of current and relevant issues available to you in print, microfiche, CD-ROM, and electronically. Come check out your government at the University Library!