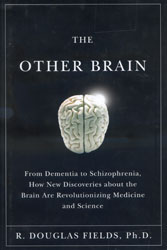 The Other Brain:
From Dementia to Schizophrenia,
How New Discoveries about the Brain Are
Revolutionizing Medicine & Science
by R. Douglas Fields
QP376 .F46 2010
New Book Island, 2nd floor
I know that sometimes when debating with people that pull out random facts and knowledge that it seems like they have a second brain. Well, this week's featured title makes the argument that everyone, not just the really smart ones, has more brain that previously thought.
Fields, Chief of the Section on Nervous System Development and Plasticity at the National Institute of Child Health and Human Development (National Institutes of Health), details the glia, different from neurons and make up more than three quarters of the cells in the brain. In the past, these cells were regarded as nothing more than packaging for the neurons. However, the neuroscientist explains the current research findings indicate that these powerful cells do so much more than cushion. In fact, these cells have been linked to neurodegenerative diseases such as Parkinson's and Alzheimer's and psychiatric illnesses like schizophrenia and depression. Furthermore, Fields provides the background of the study of these cells, current research and implications for future generations of scientists.