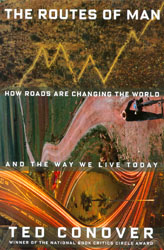 The Routes of Man:
How Roads Are Changing the World
and the Way We Live Today
by Ted Conover
HE341 .C66 2010
New Book Island, 2nd floor
My uncle used to tell us this story of a Illinois state senator that tried unsuccessfully to petition the government to secede the west central section of the state and call it Forgottonia. The main reason: the region lacked insufficient roads to connect it with the rest of the state. Now, I'm not sure of whether the state senator part of the story is true, but the Forgottonia part is, highlighting the impact of roads on a region's development. This week's featured title takes a closer look at how transportation methods have influenced the evolution of civilization.
Conover, award-winning author of Newjack: Guarding Sing Sing, takes a journey to the far ends of the world to document the significant effects, both positive and negative, of infrastructure. He travels across several continents to investigate how the transportation of goods and people have shaped the way of life for its inhabitants. The author provides the historical context as well, tracing routes back to ancient Rome to the present. This book demonstrates the power of the road for our ever-connected global society.