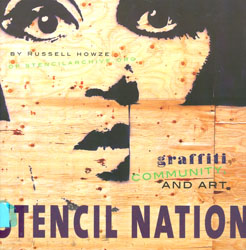 Stencil Nation:
Graffiti, Community and Art
by Russell Howze
NK8654 .H69 2008
New Book Island, 2nd floor
One thing that has always fascinated me is graffiti and street art. Being from a small town in the middle of cornfields, there weren't a lot of opportunities to see examples, with the exception of the passing freight trains. Then I traveled to Barcelona and noticed a different form of street art: stencils. It turns out that it's a whole movement, and this week's featured title tells all.
Howze, founder and curator of Stencil Archive, has compiled a volume on the work of street artists around the world. From San Francisco to New York, Argentina to Thailand, stencil art is popping up everywhere, and not just on the sides of buildings. Any surface becomes a canvas, and the variety is astounding. Howze profiles the 'aerosole pioneers' like John Fekner and Jef Aérosol, and artists, as well as those the documentarians, those that have captured the evidence for others to see. He also provides a chronology stenciling (back to 30,000 BC!) and tips for making your own stencils from the artists themselves.