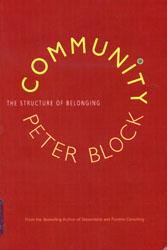 Community:
The Structure of Belonging
by Peter Block
HM683 .B56 2009
New Book Island, 2nd floor
Today is the day that many members of the University have been eagerly awaiting, and I'm not talking about the fire drills that will be taking place throughout the morning. The results of the Campus Climate Survey will be announced and discussed this morning in the UC. In honor of that, this week's New Stuff Tuesday highlights what it means to belong.
Block, a "citizen of Cincinnati" and partner in Designed Learning, takes the idea of community very seriously. He demonstrates how to turn a fragmented and stuck community into the unified and restorative community. The author contends that leaders do not possess certain styles or skills, but rather the ability to bring the right people together in the right way. He also stresses that asking questions goes further than providing answers. This exploration and transformation of the community by individual members creates a sense of belonging, which can be a very powerful feeling.