Cry Rape:
The True Story of One Woman's Harrowing Quest for Justice
KF225 .B66 L84 2006
Main Collection, 3rd floor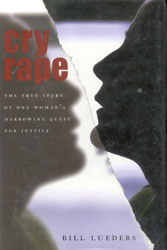 Madison, Wisconsin, prides itself on its open-minded, progressive image. But one woman knows just how mistaken that image can be. Patty was raped in September of 1997 in her own bedroom by a man who broke in to her Madison home. He threatened her with a knife, and he made threatening remarks about her 18-year-old pregnant daughter, asleep in the next room. Patty, legally blind, kept quiet and did as she was told, and she survived. After the rapist finally left, she called 911 and reported the crime to the police.
What happened next is the harrowing quest referred to in the title of the book, Cry Rape: the True Story of One Woman's Harrowing Quest for Justice. Because the main detective on the case didn't believe Patty. He thought she was lying, that she made the rape up. And he also convinced many others involved with the case that she was lying. Patty spent the next seven years fighting within and fighting against the legal system, trying to prove she was telling the truth. And when physical evidence was finally uncovered that backed up her story, did the police start looking for her rapist? No. They still didn't believe her.
Everyone who lives in, has ever lived in, or has ever visited Madison should read this story.