Jean Brennan, Senior Climate Change Scientist at Defenders of Wildlife, will deliver the Distinguished Scholar Lecture "The Climate Change Challenge: Why Traditional Conservation Approaches Can't Work" on Tues., Apr. 20, 2010, at 7 pm in Young Auditorium.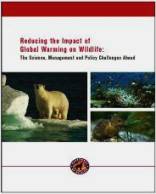 Dr. Brennan authored the Defenders of Wildlife publication, Reducing the Impact of Global Warming on Wildlife.
Interested in researching climate change? Andersen Library has materials.
A search of the HALCat online catalog will find titles such as Climate change and biodiversity (3rd-floor Main Collection, QH541.15.B56 C62 2005), Combating climate change: A transatlantic approach to common solutions (3rd-floor Main Collection, QC981.8.C5 S9397 2008), and Global warming: The complete briefing (3rd-floor Main Collection, QC981.8.G56 H68 2009).
Search article databases to find articles such as "Forecasting the Effects of Global Warming on Biodiversity" (BioScience, March 2007, v.57:no.3, pp.227-236).
There are authoritative web sites with information as well, such as the web site of the Intergovernmental Panel on Climate Change.
Please ask a librarian for assistance with finding materials.