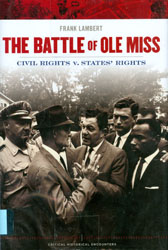 The Battle of Ole Miss
Civil Rights v. States' Rights
by Frank Lambert
LD3413 .L36 2009
New Book Island, 2nd floor
As we all know, the middle years of the twentieth century were a very tumultuous time for the civil rights struggle for African Americans. All aspects of life were affected by the color line, including education. This week's featured title focuses on higher education – one with which we all can relate.
Lambert, history professor at Purdue University, brings us the story of James Meredith, an African American student that enrolled for classes at University of Mississippi in 1962. The riot that took place after his matriculation earned a spot in the record books as one of the deadliest clashes of the era. The author provides a first-hand account of many of these events, as he was a student at Ole Miss at the time. While Lambert highlights the local situation, he also explores the historical context of Mississippi and the South – the sociocultural factors that contributed to the blow-up.