James Fallows will talk about Postcards from Tomorrow Square: Reports from China on Monday, March 15th, at 7pm in the Irvin L. Young Auditorium, as part of the Contemporary Issues Lecture Series.
Fallows has been a national correspondent for The Atlantic for over 25 years, based in Washington DC, Seattle, Berkeley, Austin, Tokyo, Kuala Lumpur, Shanghai, and now Beijing. You can read his "Voices" blog entries on the Atlantic site. In 2003 he won a National Magazine Award for his article "The Fifty-First State?" (The Atlantic Monthly, Nov. 2002, vol. 290:no.4, pp. 53-64), which talked about "the effects of military victory of the United States in the Iraq War."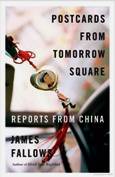 His work has appeared in many other publications as well. Search the article databases such as Academic Search Complete and MasterFILE Premier (Ebsco) to find some of his articles (try the search au fallows james).
His book, Postcards from Tomorrow Square, is available in Andersen Library's 3rd-floor Main Collection (DS706 .F3 2009), or UWW students and staff may request it from other UW libraries by using the free Universal Borrowing service. Requested materials arrive in 2-4 weekdays.
Please ask a librarian for assistance with finding materials.