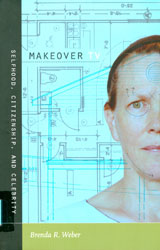 Makeover TV:
Selfhood, Citizenship and Celebrity
by Brenda Weber
PN1992.8 .R43 W43 2009
New Book Island, 2nd floor
Reality television, once thought of as a passing fad, has turned out to take over to profile every aspect of daily life. If it can be filmed, then it will be made (think fist pumpers of Jersey Shore – really, MTV?). The trend extends to makeovers as well, everything from home renovations to body transformations. I admit that I have lost many hours of my life glued to the TV, stuck on House Hunters or What Not to Wear marathons. But what does that say about us, our way of life, our society?
Weber, professor of gender studies at Indiana University, takes on the phenomenon of televised makeovers and analyzes how these shows represent much larger cultural ideas. She watched over 2,500 hours of the genre (I want her job!) to come up with these narratives about the 'rebirth' of individuals to a national audience. The author contends that the makeover experts exert their influence on participants, emphasizing the distinct differences between males and females. This hyper-'genderization' speaks volumes about our current society and what makeovers do to a person's self-identity.