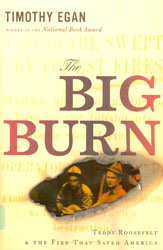 The Big Burn:
Teddy Roosevelt & the Fire That Saved America
by Timothy Egan
E757 .E325 2009
New Book Island, 2nd floor
Usually when you hear of a fire, big or small, you think of complete devastation, right? This week's featured title required a second look because of its claim about a fire that 'saved' America.
Egan, Pulitzer Prize-winning author, takes a notable and destructive event from United States history and provides the context for its irrationally positive outcome. He explores the great forest fires just after the turn of the last century, the Big Burn of 1910, in which the national forests of Montana, Idaho and Washington were lost. The author gives voices and life to the rangers and firefighters that valiantly fought to contain the flames, as well as Theodore Roosevelt, known for his staunch support for conservation. Fans of either the great outdoors, Teddy or American history should a take a look at this book.