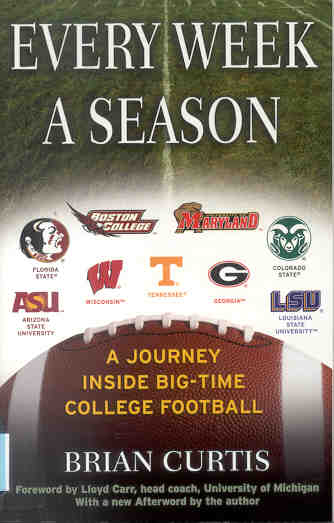 Every Week a Season: a Journey Inside Big-Time College Football
Brian Curtis
GV958.5 .N33 C87 2005
New Book Island, 2nd floor
Those who know me will laugh upon learning I am highlighting a book on "big-time college football," since I watch about one quarter of football (total) per season. But, with a chapter included on the 2003 Wisconsin-Ohio State game, how could I not? Every Week a Season follows 9 college football programs during the fall 2003 season for one week each. Games covered include Colorado State v. Colorado, Georgia v. South Carolina, Boston College v. Miami, Tennessee v. South Carolina, Maryland v. Clemson, the aforementioned Wisconsin v. Ohio State, Louisiana State v. Auburn, Florida State v. North Carolina State, and Arizona State v. Arizona. There is also coverage of the SEC Championship game between Georgia and LSU and the BCS National Championship/Nokia Sugar Bowl game between LSU and Oklahoma. And the author doesn't just review the games: he takes you behind the scenes each week at a different program, including staff meetings, strategy sessions, dress codes, and much more. It's a fascinating read, even for this non-football fan.
As for the title of Wisconsin's chapter, "I'm In, I'm On," I have just two words for you: rubber bands.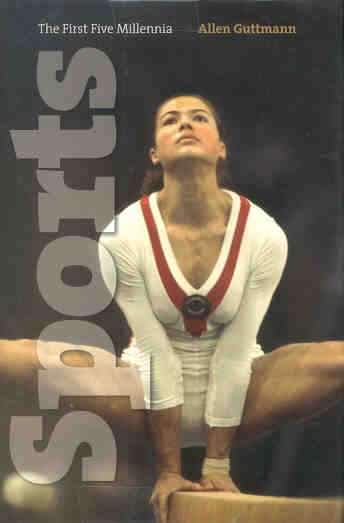 Sports: the First Five Millennia
Allen Guttmann
GV571 .G88 2004
New Book Island, 2nd floor
Another sports book, entirely different focus. Sports: the First Five Millennia traces the history of sports around the world. Sports range from cricket to basketball to automobile racing to football to gymnastics, to name just a few. Although the organization of the book seems a bit jumbled–chapters are mainly by continent or country, but others are included on such topics as "winter sports" and "instrumentalized sports"–there is a lengthy index to help you navigate. This book has a little bit of everything, so check it out.