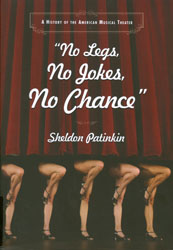 "No Legs, No Jokes, No Chance":
A History of the American Musical Theater
by Sheldon Patinkin
ML1711 .P37 2008
New Book Island, 2nd floor
Sometimes titles just stand out to me (no pun intended). This week's featured book required a closer look for obvious reasons, with its catchy name and all.
Patinkin, chair of the theater department at Columbia College in Chicago, takes the reader on a roller coaster ride through the adventures of musicals in two parts. In the first part, the author provides the foundations and sources of inspiration for the American stage, like the European opera and burlesque. He then delves into many of the major musical productions from the early 1900s to the present, profiling not only the shows, but also the performers, producers and the historical context as well. This text is a must for anyone researching or interested in musical theater.