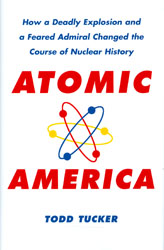 Atomic America:
How a Deadly Explosion and a Feared Admiral
Changed the Course of Nuclear History
by Todd Tucker
TK1345 .I2 T83 2009
New Book Island, 2nd floor
It seems like at least once a week (or more frequently), a story pops up in the news relating to nuclear energy and the struggle to contain it. The current state of global instability, coupled with the focus on sustainability, have put this controversial power source at the center of an intense debate. This week's featured title looks to the past to explain its history and to provide caution for its future.
Tucker, a former Naval officer, examines the events of an explosion at SL-1, a nuclear reactor near Idaho Falls, ID in early 1961. The blast at the US Army installation took the lives of three people, making it the only fatal event of its kind in American history. While the Army placed the blame on 'human error', the author takes the opportunity to uncover what really happened in the middle Idaho. What he finds is not only poor engineering, but a nuclear-induced craze among the military branches to control nuclear power. He contends that the incident at SL-1 provide an excellent example for guiding today's management of one of the most feared and revered forces in the world.