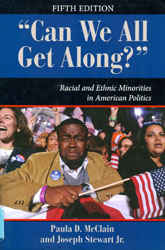 "Can We All Get Along?":
Racial and Ethnic Minorities in American Politics
by Paula McClain and Joseph Stewart
E184 .A1 M347 2010
New Book Island, 2nd floor
It's the time of year when many people decide to change their lifestyle in some way, whether it be actually using the gym membership that they purchased or not going back for thirds at the all-you-can-eat buffet – things of that nature. Some may even pledge to nicer to those around them. For that reason, I chose to highlight this week's featured title, given that politics can ignite some serious emotion and heated arguments between individuals.
McClain and Stewart, professors at Duke and Clemson Universities, respectively, have put out an updated edition of their popular book, which analyzes the role of race and ethnic relations in political dealings in the United States, to include the momentous 2008 presidential election. The authors cover the historical events that have shaped the current state of minority involvement in politics, as well as topics like voting behavior, party affiliations and minority coalitions. This update provides an excellent foundation for researching an interesting and contentious topic.
Can't we all just get along?