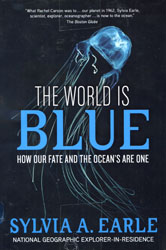 The World Is Blue:
How Our Fate and the Ocean's Are One
by Sylvia Earle
GC21 .E28 2009
New Book Island, 2nd floor
It seems to me that much of the focus in the environmental debate has been on climate change and plastics and recycling. This week's featured title looks at the major 'benefactor' (if you can say that) of the effects of those factors, the world's oceans.
Earle, Explorer-in-Residence at the National Geographic Society and well-respected researcher, presents the case for protecting and preserving the oceanic landscape. In her opening paragraph, she states that "many seem unaware that without the 'blue', there could be no green" (both literally and figuratively). The author goes into great detail about the living organisms that are sustained by the water, and the challenges that these lifeforms face from the human practices that are detrimental to their ecosystems. Fortunately, Earle offers her vast knowledge of the oceans to educate people, but also to describe solutions in which we can save not only our water-based friends, but also ourselves.