Geography Awareness Week, November 15-21, 2009, is upon us and has the theme of exploring the world through mapping. How are you celebrating?
If nothing else, "test your geography smarts" online with one of these challenges:
Yikes! They even ask about all those islands out there…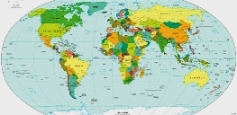 Need to brush up (as I do)? Check out CIA World Factbook maps and "World Maps" available through the Oxford Reference Online Premium database. Or, Andersen Library has a number of print atlases and books about mapping–please ask a librarian for assistance with finding materials.