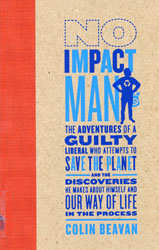 No Impact Man:
The Adventures of a Guilty Liberal Who Attempts to Save the Planet and the Discoveries He Makes About Himself and Our Way of Life in the Process
by Colin Beaven
HD62.27 .S64 2009
New Book Island, 2nd floor
Can you imagine a year without take-out food (I would flat out die from starvation), driving (I don't really need a job) or Tide in your laundry (smelling nice is overrated)? Well, Beaven, author and electronic engineer, not only puts himself to the test of zero environmental impact, but also his family. Surprisingly, they all made it out alive and were able to write about their experiences. The author describes the trials and tribulations of the modern conveniences, such as air conditioning and toilet paper (you'll have to read it to find out about that side of things). If you can't get enough of him, you can check out his No Impact Project.
(The real reason that I chose to feature this book is because of its appearance and construction. The publishers printed the book on 100% postconsumer recycled paper and utilized unbleached cardboard covers. It definitely catches your eye on the shelf.)