Do you keep up with news from around the country and the world, or is your head stuck in the Whitewater sand? There's a lot going on! Take the CNN Challenge and see what you know. Some questions test knowledge of old news (aka history).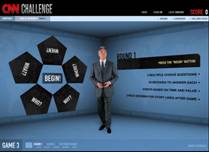 Feeling like you need to learn more? There are daily newspapers to read in Andersen Library (see 2nd-floor newspaper rack for current issues), web sites of news organizations, and of course, news on radio and TV. For older topics, Andersen Library has books, videos and government publications that can be found by searching the HALCat library catalog, and articles in newspapers and magazines can be found by searching article databases such as the ProQuest Historical Newspapers: The New York Times (1851-2006).
Please ask a librarian for assistance with finding materials.