Teachers, student teachers, and others with the desire & opportunity to educate youth groups: The National Oceanic and Atmospheric Administration (NOAA) has issued two discs of resources for educators on coral reefs and and other ocean topics. Both contain lesson plans, videos, posters, and more: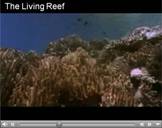 Contents of the 2008 NOAA Coral Reef Educational Resources CD are described online, with links to play videos and the coral reef song (yup, a theme song for the International Year of the Reef 2008) online. (My personal favorite is "The Living Reef" video.) See the NOAA Coral Reef Conservation Program web page "Resources for Educators" for more K-12 material. You also can visit the Marine Photobank to see images in its "Coral Degradation and Potential Solutions" photo gallery.

The 2009 Year of Science: NOAA Education Sampler DVD includes materials about oceans, coasts, atmosphere, and climate science. Resources provided include movies & animations, facts sheets & data sets, story books, activities & lesson plans, and podcasts for use with grades 3-12. I found the "Arctic Sea Ice Changes" animation sobering, and on a lighter note, I was a sap for the "Orphan Orca: Saving Springer" movie (Who doesn't love a happy ending, and it's a true story too!).

Both discs are available from the federal depository collection of CDs & DVDs (ask at the Reference Desk), if you prefer that to using the links from the web pages. Additional related materials are available in Andersen Library. For example, search the HALCat Library catalog for "coral reef?" and limit to the Curriculum Collection to find juvenile titles such as Hello fish! Visiting the coral reef (2nd-floor Curriculum Collection, Oversize Juvenile Nonfiction, 597 Ear).
Please ask a librarian for assistance with finding materials.

The University Library is a federal depository with many federal, state, local, and international documents on a variety of current and relevant issues available to you in print, microfiche, CD-ROM, and electronically. Come check out your government at the University Library!