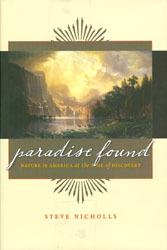 Paradise Found:
Nature in American at the Time of Discovery
By Steve Nicholls
QH102 .N53 2009
New Book Island, 2nd floor
How has your hometown changed over the last ten years? Your lifetime? Ever wonder what your hometown looked like before anyone actually lived there? This week's featured title take a look at our continent and its natural history around the time that Columbus sailed the ocean blue.
Nicholls, known for his work as a wildlife filmmaker, takes the reader on a journey through North America – before the first settlers left their lasting marks. The Europeans that made the voyage across the ocean were met with untouched natural beauty, leaving behind detailed notes of the flora and fauna that they encountered. The author uses his vast knowledge of natural history and experience from directing and writing documentaries to bring the picturesque beauty of the landscape to life. He utilizes the firsthand accounts from the past and scientific research being done today to create portraits of each of the regions of the continent.