The 10th annual International Day of Older Persons, a United Nations-sponsored observation, is Oct. 1, 2009. Each year has a theme, which in 2009 is "Towards a Society for All Ages."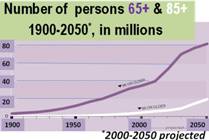 Why is this important? The introduction to the Vienna International Plan of Action on Ageing (1982), the first international instrument intended to guide the formulation of policies on aging, commented on the "social, economic, political and scientific questions raised by the phenomenon of ageing on a massive scale" unknown in previous years, and the trend toward increasing numbers of people living longer is continuing. Since I am, ahem, slowly but relentlessly approaching membership in the "older person" group, since most if not all of us know and care about people who are "older persons" already, and since (with a little luck) most of us will one day be "older persons' ourselves, these issues affect all of us.
At the second world assembly on aging in 2002, a plan of action was adopted that had three priority directions: older persons and development; advancing health and well-being into old age; and ensuring enabling and supportive environments. The report states that the increase in persons over 60 years of age
"will be greatest and most rapid in developing countries where the older population is expected to quadruple during the next 50 years. This demographic transformation challenges all our societies to promote increased opportunities, in particular opportunities for older persons to realize their potential to participate fully in all aspects of life."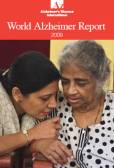 Unless we are hiding under a rock, we all hear about a number of issues facing our aging populations, such as financial concerns, nursing home quality control, and many age-related health issues. Recently, for example, I was listening to a segment on NBC's Today show about one of the health issues related to aging: Alzheimer's. The cases of people with this dreadful condition are increasing faster than was predicted; according to the World Alzheimer Report dementia cases will nearly double every 20 years, and by 2050 it will affect a "staggering 115.4 million people." The implications are rather staggering as well. How would we provide decent care for so many? In the meantime, the National Institute on Aging has some information online for this and other age-related health issues. Continuing research on these issues is important so that our increasing numbers of older persons can enjoy a high quality of life for as long as possible. And it will benefit all of us (eventually). It's also important to consider how our treatment of our older population reflects on us now, and how it will impact the way we are treated as we ourselves age.

If you are interested in doing research on topics related to aging, Andersen Library has materials you can use. Searching the HALCat, Andersen Library's catalog, would find titles such as Exploitation of seniors: America's ailing guardianship system: hearing before the Special Committee on Aging, United States Senate (online or 2nd-floor Federal Documents, Y 4.AG 4:S.HRG.109-753) and Social policy & aging: a critical perspective (3rd-floor Main Collection, HQ1064.U5 E76 2001). Please ask a librarian for assistance with finding materials.

The University Library is a federal depository with many federal, state, local, and international documents on a variety of current and relevant issues available to you in print, microfiche, CD-ROM, and electronically. Come check out your government at the University Library!