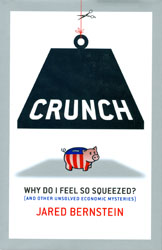 Crunch:
Why Do I Feel So Squeezed?
(And Other Unsolved Economic Mysteries)
By Jared Bernstein
HC106.83 .B472 2009
New Book Island, 2nd floor
We going to do a complete one-eighty here from last week (it was all about shopping, shopping, shopping) and talk about saving money, or more accurately, having less money to save. That's right – the current financial and economic environment has caused hardships for the bank accounts of most, if not all, Americans. This week's featured title has a number of answers to questions ranging from Social Security and immigration to the nation's piggy bank (and yours).
Bernstein, senior economist at the Economic Policy Institute, must have gotten his inspiration from the nightly news. See, the author covers the issues that concern American citizens at the moment. He utilizes the principles of crunch-time economics to explain what you're seeing in everyday life and society. Bernstein addresses unemployment, globalization, the economy… everything in an enjoyable tone that may make you think that economics isn't so dismal after all.