Welcome to fall semester, and flu season too. What a terrific combo! We're all here on campus sharing keyboards and doorknobs and such, and we need to protect ourselves from germs that can make us sick. Of special concern is the H1N1 flu.
There are two simple steps we can take to protect ourselves and others:
Cover coughs and sneezes! Use a tissue (and throw it in the trash) or use your sleeve. Don't use your hands!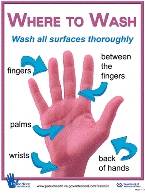 Wash your hands! Wash long enough to sing "Happy Birthday" twice, or use alcohol-based hand cleansers:
after sneezing or coughing,
after using the bathroom,
before you eat,
before you touch your eyes, mouth, or nose.
More information is available from the web site of the Centers for Disease Control and the UWW University Health & Counseling Services.

The University Library is a federal depository with many federal, state, local, and international documents on a variety of current and relevant issues available to you in print, microfiche, CD-ROM, and electronically. Come check out your government at the University Library!