This week, I've chosen two unrelated titles, just that they had somewhat catchy covers. I know, I know, don't judge a book by its cover.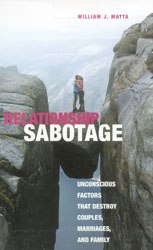 Relationship Sabotage:
Unconscious Factors That Destroy Couples, Marriages and Families
William Matta
HM1106 .R45 2006
New Book Island, 2nd floor
Although I was initially drawn to this book by the cover art with the couple standing on a seemingly self-suspended rock, the book raises the interesting topic of break-ups and the factors for their demise. Matta, listed as one of the top therapists according to Psychology Today, contends that the unconscious mind plays a pivotal role in the failure of relationships, memories as far back as childhood that continue to haunt individuals. In his review of book, WP Anderson, emeritus faculty from the University of Missouri-Columbia, indicated the its usefulness both as a self-help text and as a guide for students because of its depiction of real-life client interactions.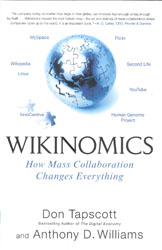 Wikinomics:
How Mass Collaboration Changes Everything
Don Tapscott & Anthony Williams
HD69 .S8 T37 2006
New Book Island, 2nd floor
How many times have you searched for something on Google and retrieved an article from Wikipedia, probably 8 times out of 10, right? Everyone knows about sites like Wikipedia, Youtube, Flickr, the "Web 2.0," but Tapscott and Williams delve into the larger idea of "mass collaboration" and its impact on the way businesses interact with consumers. No longer must users rely on private industry for innovation because of open source technologies like Mozilla Firefox and the Linux operating system. This book outlines where companies fit into the scheme and how they can tap into the collaboration of the masses.