There is plenty of interest in knowing what we're doing online–what we're searching, where we're surfing–by marketers, researchers, educators, and others. Here are some examples of available resources:
Google Trends allows you to compare up to 5 words or phrases to see how often they've been searched relative to each other over time, e.g., cats,dogs. Results can be displayed for geographic areas of interest (below are results for the U.S. and France, both 2004-2008). You also can export the data to a .csv file and open it in a spreadsheet application. More information about Google Trends is online.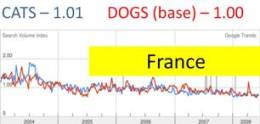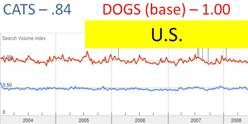 Google Trends for Websites shows where a website's visitors are. The UWW campus website 's visitors come mostly from Wisconsin and Illinois (no surprises there), but the third most frequent state from which our online visitors come is California.
Alexa.com provides lists of the most-visited websites, globally and for specific countries. If you click on "Site info for" a particular "top" website you can get detailed traffic information such as the countries from which the site's users are coming, where on the site users go, average page views per user, and the percentage of global users who go to the site.
The Pew Internet & American Life Project is constantly surveying people to learn more about who is online and the types of online activities in which they engage (bill paying, blogging, online shopping, email, file downloading, etc.). A special report on The Internet and The 2008 Election is available online. You can even take one of the Pew surveys, e.g., take the typology quiz to see what category (Inexperienced Experimenter, Connector, etc.) fits your use of information and communication technology.